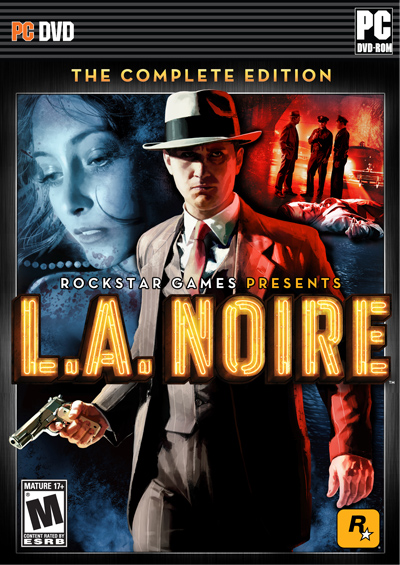 Now Available for Windows
, Steam and Onlive
Overview
L.A. Noire: The Complete Edition is a dark and violent crime thriller set against the backdrop of 1940's Los Angeles, where newly-minted officer Cole Phelps embarks on a desperate search for truth in a city where everyone has something to hide. Utilizing revolutionary new facial animation technology, L.A. Noire blends the breathtaking action of chases and shootouts with true detective work to deliver an unprecedented interactive experience.
Featuring the groundbreaking performance capture technology called MotionScan®, L.A. Noire lets players analyze every subtle nuance of an actor's performance. By using real-life interrogation techniques combined with classic action elements, L.A. Noire enables players to truly explore what it means to be a detective in 1940's Los Angeles.
Developed by Rockstar Leeds, L.A. Noire: The Complete Edition is now available in North America and coming on November 11th in Europe and Australia.
Special Features
L.A. Noire: The Complete Edition will run on a wide range of PCs and feature increased resolution and graphical detail along with keyboard remapping and gamepad functionality. L.A. Noire: The Complete Edition on PC will also feature support for NVIDIA 3D Vision, which provides an even greater sense of interaction and immersion.
System Specs
Operating System: Windows 7 / Windows Vista Service Pack 1 / Windows XP Service Pack 3 / OnLive® for PC or Mac
Processor: Intel Dual Core 2.2GHz to Quad Core 3.2GHz / AMD Dual Core 2.4Ghz to Quad Core 3.2Ghz
RAM: 2GB to 8GB
Hard drive space: 16GB
Video Card: NVIDIA GeForce® 8600 GT 512MB to NVIDIA GeForce® GTX 580 1536MB / Radeon HD 3000 512MB to Radeon HD 6850 1024MB
Sound Card: 100% DirectX 9 Compatible
DVD Drive