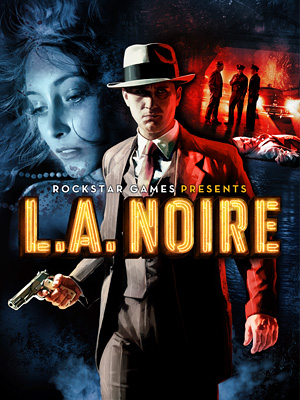 Developer:
Team Bondi
Publisher:
Rockstar Games
Director: Brendan McNamara
Writer:
Brendan McNamara
Platforms: Playstation 3 (Blu-ray Disc)
Xbox 360 (DVD)
Release Dates: 17 May 2011 (NA)
20 May 2011(EU)
Genre: Mystery
Mode: Open World
Description:
L.A. Noire is an upcoming video game developed by Team Bondi and published by Rockstar Games. Initially announced as only for the Playstation 3, the game was later reported to also be scheduled for release on the Xbox 360. L.A. Noire is set in "a perfectly re-created Los Angeles" of 1947, with players being given an open-ended challenge to solve a series of murder mysteries.
As the title suggests, the game draws heavily from both plot and aesthetic elements of film noir - stylistic films from the 1940s and 1950s that shared similar visual styles and themes including crime, sex and moral ambiguity and were often shot in black and white with harsh, low-key lighting. The game uses a distinctive coloring-style in homage to the visual style of film noir. The post-war setting is the backdrop for plot elements that reference the detective films of the '40s, such as corruption and drugs, with a classical jazz soundtrack
.
A
mid the post-war boom of Hollywood's Golden Age, Cole Phelps is an LAPD detective thrown headfirst into a city drowning in its own success. Corruption is rampant, the drug trade is exploding, and murder rates are at an all-time high. In his fight to climb the ranks and do what's right, Phelps must unravel the truth behind a string of arson attacks, racketeering conspiracies and brutal murders, battling the L.A. underworld and even members of his own department to uncover a secret that could shake the city to its rotten core.
L.A. Noire

is also notable for using Lightsprint's real-time global illumination technology, as well as a newly developed piece of technology called MotionScan, where actors are recorded by 32 surrounding cameras to capture facial expressions from every angle

.
U
sing groundbreaking new animation technology that captures every nuance of an actor's facial performance in astonishing detail, L.A. Noire is a violent crime thriller that blends breathtaking action with true detective work to deliver an unprecedented interactive experience. Search for clues, chase down suspects and interrogate witnesses as you struggle to find the truth in a city where everyone has something to hide.