L.A. Noire aims to immerse the player in a deep, dark and extremely faithful recreation of 1940's Los Angeles, with painstaking steps taken in development to assemble and reflect a digital world as accurately as possible. Years of involved motion-capture, groundbreaking MotionScan facial recognition technology, as well as passionate research and production design have been just a few of the efforts employed to help make this one of the most original and epic interactive experiences you've played yet.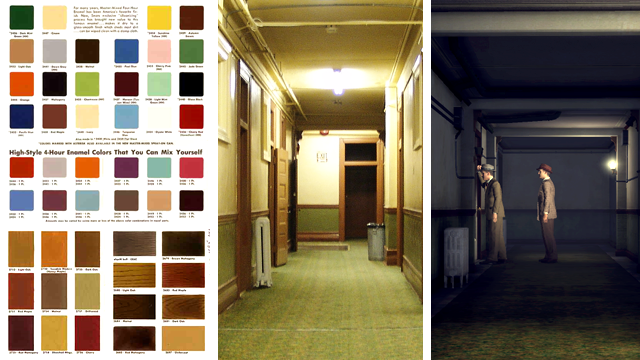 Left: Authentic paint swatches from the 1940's were sourced to determine the game's color palette; Middle: From Team Bondi's extensive Los Angeles locations photo shoot - a Hallway from the landmark Barclay Hotel; Right: That direct reference material transformed into one of L.A. Noire's shadowy and dangerous locations.
The team at Bondi traveled to L.A. to tour all sorts of historical locations, relics of old Los Angeles still standing more or less as they were over 60 years ago – collecting countless reference photos in a shoot that informed many places you will visit in your tour of duty as LAPD Detective Cole Phelps. From glamorous restaurants to the dingiest skid row hotels, Team Bondi Production Designer Simon Wood and Lead Artist Ben Brudenell found reference locations perfect for the game. A great example being the run down apartment building that appears in the Traffic desk case "The Driver's Seat" - the in-game setting being an almost perfect replica of the Barclay Hotel in L.A. which has been used as a location in many Hollywood films.
"Sometimes there's no better substitute than real life,"
says Wood.
"Ben photographed every square inch of that hotel."
The final product of in-game locations, both interior and exterior, wound up an amalgam of carefully researched reference material and artful inspiration. Wood explains, "Some were designed from the ground up as we couldn't find what truly matched the needs of the gameplay or the original script by Brendan (McNamara, Team Bondi Studio Head). But other locations are interiors that we inserted into wonderful existing buildings. The Art guys in the team did an amazing job, as you really can't tell what was made up by us and what was an original fabrication." Additional reference material that wasn't photographed was sourced from rare items such as vintage magazines from the time. "I bought from eBay old House & Garden magazines, along with Architectural Digest, Sears catalogues and Interior Decorating guides from the 40's. These were invaluable as not only did it show you the best of how they styled their homes, but it showed you how they lived."
"We created 'Production Bibles' which are like production design style guides for all the locations in the game," said Wood, "The bibles have floorplans, material, dressing, graphics and signage, lighting details, and any other reference images that are needed to create the locations in the game. We made over 140 of them altogether."
This was particularly challenging considering the sheer amount of locations and the need to keep each one unique, yet accessible to explore and investigate. "I had a checklist of which styles of architecture and colour palettes would work well with the characters Brendan was writing, so that their persona was reflected in their personal surroundings."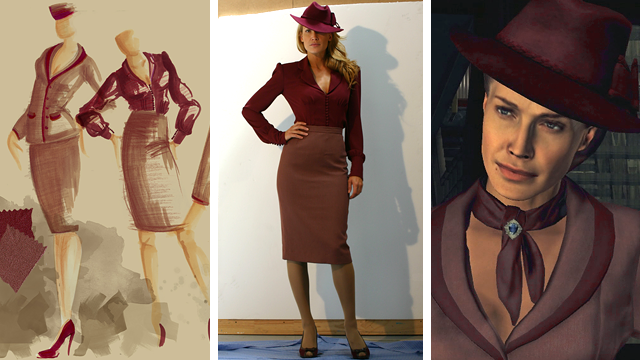 Left: Starting from original sketches done in vintage style, and a collection of fabric swatches; Middle: Erika Heynatz as Elsa Lichtman, meticulously styled for the original photo shoot; Right: The finished product - Elsa in-game as seen in last week's Official Trailer #2.
"It was such a glamorous period for clothes… Sexy women and men in hats."
In the early days of prep, Team Bondi hired professional film and TV Costume Designer, Wendy Cork to design the principal wardrobe and start to piece together additional reference material that Wood and the team would later use for designing the remaining cast.
Says Wood: "It was a cast of bloody hundreds! The costume needs just kept growing and growing as the cases grew more elaborate and interwoven, but it really makes all the difference having all these different characters in the game world."
The principal costumes by Ms. Cork and her team were scanned by Team Bondi in full body 3D scanners, giving them incredibly high resolution models to simulate the texture and fabric in detail. While some costumes were able to be sourced locally in Sydney (including some wardrobe previously used in Peter Jackson's "King Kong" remake), the bulk were sourced in L.A. "We got them from the biggest costume house in the business, Western Costume in LA. They've dressed 'Gone with the Wind', 'The Godfather', 'L.A. Confidential', 'Chinatown'. Pretty much every film you've ever seen. If you spread out their costume warehouse end to end, it would run for 12 miles."
Bondi scanned and photographed a massive variety of clothes so they could have 3D models to shader swap and merge together to dress all of L.A. "If you think about all the people you'd expect to see in just one bar: patrons, barmen, waitresses - and then times that by over 140 locations - and then on top of that figure all the pedestrians walking around the city - the costume need is very high and the character team have really created some wonderful and diverse outfits to suit them with."
From original concept sketches done in a vintage style faithful to the period, to the gathering of reference fabrics, to the styling of wardrobe for each character in every scene, to detailed photo shoots, through to their digital recreation in the game - everyone you meet in the game is dressed in a style true to their character and completely authentic to the period.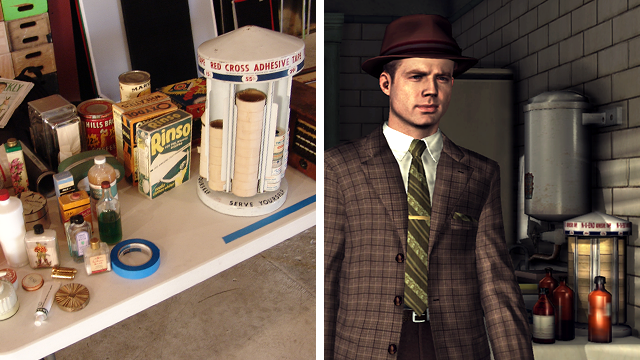 Rare 1940's props were invaluable in set dressing in-game scenes with original authentically styled items.
Before any case was written or any dialogue fleshed out, Wood had to create a prop list of all furniture and set dressing items expected to be seen in the game. "It was a huge undertaking but our core reference was great and we knew we'd have a great mixture of residential and commercial locations in the game. So I laughed and started with the word 'Chair' and the list grew from there... actually it grew quite a bit." Wood and the team had an extensive photo shoot over four full days in L.A., "We hired almost every conceivable vintage prop from the biggest Hollywood prop houses in the business. Ben was photographing items as quick as the Prop Men could get them off the truck."
The team would then begin to dress the locations based on the Production Bibles, carefully placing items to ensure they worked well for gameplay and for the realistic encounters in the game. "We were always mindful of the game's super life-like conversations and the need to light them correctly. Chee Kin (Team Bondi Art Director) had to have something to justify the way people were lit, so just like in film, we placed practical lights in the locations."
There was of course particular attention paid to vintage props collected specifically from the 1940's. Font typography, brand and product styling is very distinct from decade to decade, so it was key to make sure original items that appeared as part of set dressing accurately recreated the period. As you play through L.A. Noire, whether you're rifling through a murder suspect's home, grilling a bartender at a neighborhood pub, or examining a stick of lipstick at a grisly crime scene, the game world items have been designed in believable period style.